Social media's impact on the world and populations of different countries
Our world population right now has reached over 7 billion and it is quite literally growing by the second.
We wake up every day and see the world spinning and time passing normally just like it was the day before. we go on about our lives thinking about what we can accomplish, our obligations, and the social encounters we are going to have.
But, on the days where it's just a little harder to wake up, many have specific thoughts, which include, "does any of this matter?" "Should I even get out of bed today?" "Does anyone notice how hard I'm trying?"
These questions are caused by the massive pressure of everyday life and the crippling thought that our small existence will go unnoticed or unappreciated.
I believe that it is acceptable, if not necessary, to voice to others that they are important and that their existence is impacting the world.
It is easy to feel like your efforts fall short and your goals are unattainable when you think that no one is watching or noticing.
Encouragement is the key to motivating fellow members of the world to make it a better place.
Telling someone they are exceptional at what they do or even that they brightened your day is likely to put a smile on their face, and have no negative impact on you at all.
Lifting someone else up does not in any way bring you down, and in those moments when you feel like others are feeling low, Do not brush them off. remember the times that you wished you had someone to tell you that you are important, and needed, and wanted.
Notice the efforts of others and try every day to show them that they are helping keep the world spinning and that their small existence is in fact, not small at all.
And if you're reading this, you are wanted and needed in this world and you're doing an amazing job.
Global social media research summary 2019
Our compilation of the latest social media statistics of consumer adoption and usage.
Social networks are now so well established, that there is a core 'top five' social networks that don't change much from year-to-year. But, as we'll see in this post, the most popular social media sites vary a lot by level of usage in different countries and demographics. Understanding these differences in popularity of different social networks is really important when targeting specific audiences. When comparing the most popular social networks it's best to review them by active account usage, not just the number of user accounts. We'll also see in this summary that some social networks are growing more rapidly than others while some are now in decline.
2019 social media stats update
We'll keep this post updated during 2019 as the latest statistics are published drawing on our recommended
top 10 digital marketing statistics sources
. We'll be pointing to new data around social media channel penetration in the US from Pew Internet and Global Web Index. Since it is still early in the year, many graphs will use the most recent data from 2018 until new research from 2019 is released.
Q1. What is the overall popularity of Social Media globally?
Each year, near the start of the year, We Are Social update their massive global compendium of stats which gives some great insights into the world of social media. It's a great download for presentations. It's particularly interesting how far some countries are diverging in terms of social media use, and surprising that Western Countries are actually lagging a fair way behind in adoption rates.
Some of the key takeaways from their Global Digital Report 2019 include:
The number of internet users worldwide in 2019 is 4.388 billion, up 9.1% year-on-year.
The number of social media users worldwide in 2019 is 3.484 billion, up 9% year-on-year.
The number of mobile phone users in 2019 is 5.112 billion, up 2% year-on-year.
The global increase in social media usage since January 2018 is 9%. Saudi Arabia has the largest social media penetration in 2019 at 99%, which is well above the global average of 45%. Other countries with the largest social media penetration include Taiwan, South Korea and Singapore. Ghana, Kenya and Nigeria have the lowest levels of social media penetration.
With Facebook having the most daily active users compared to other social networks it's important to know how your content may potentially perform and what features to use to optimize the reach of content. There is an 8% average post reach vs page like (down by 2.7% year-on-year) and 27.1% average paid post reach vs total reach. Facebook is a great social platform for organic and paid opportunities with a huge potential reach, although recent algorithm updates have seen organic opportunities to decline. It is now more important than ever to target Facebook content to business personas to gain quality leads.
The full report from we are social contains a massive amount of data across 200+ slides. It provides country-specific data for the vast majority of the world, so you might want to check out the slides of the countries in your core markets to get a better idea of the current state of society in the areas you operate.
Q2. Which are the most popular social networks?
The latest insight from the comScore panel in their
2018 Global Digital Future in Focus
compares the popularity of social networks by share of time gives this data based on their home panel for the US, Canada, France, Germany, Italy, Spain, UK, Argentina, Brazil, Mexico, India, Indonesia, Malaysia. We have more detailed information on the UK and the US later in this article.
Most popular social networks based on a share of minutes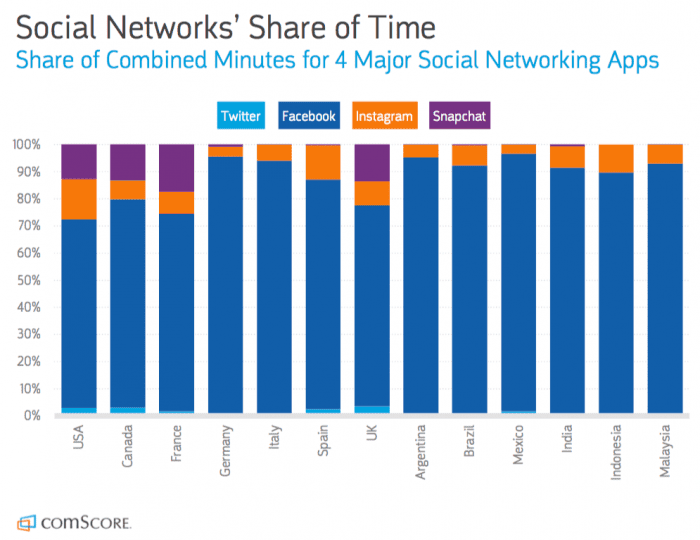 You can see this is a sea of Facebook blue, so this shows that despite the negative media hype about Facebook it is going to remain a major audience channel for some time.
In the UK you can see that Instagram accounts for around 10% of social media minutes, so if you are not already exploiting the latest Instagram ad techniques, then it's worth looking into these, see our
digital
media cheatsheet
for more details.
This compilation of the most popular social networks worldwide by active users (October 2018) prepared by Statista using data from the Global Web Index panel gives a clear picture of the number of active users (in millions) with Facebook ruling supreme. This won't be a shock to anyone! With over 2 billion active users it holds the majority market share. Google's YouTube is second with Facebook-owned, WhatsApp and Messenger not far behind. Facebook's Instagram platform has fewer than half of the visits to Facebook...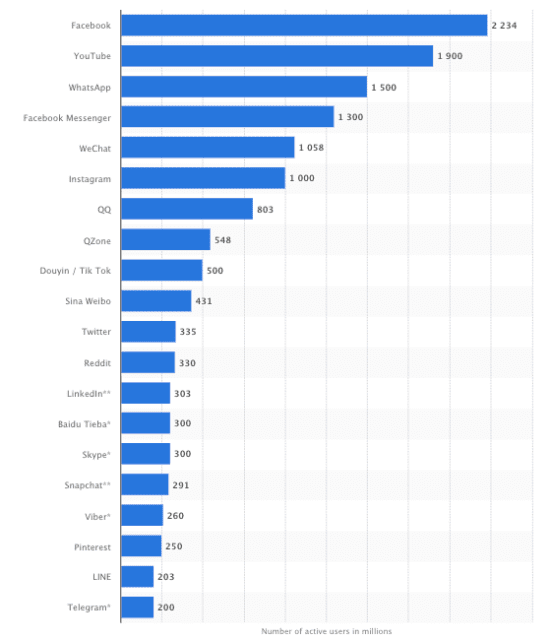 Following from this, we have predominantly APAC favoured platforms, with QQ, WeChat and Qzone all with over 600 million active users, highlighting the array of social platform offerings in the APAC. We then see a cluster of predominantly western social media networks on Tumblr, Instagram, and Twitter.
United Kingdom Social network popularity
The latest Ofcom Communications Market report gives this summary for the most popular UK social networks as of March 2018.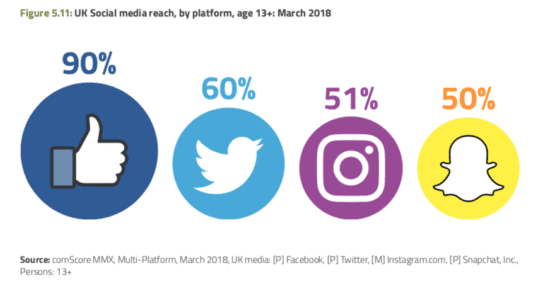 A new 2019 Children and parents: media use and attitudes report also published by Ofcom (UK) is interesting if your business is involved in marketing to children or youth markets or you want to understand future adult use of social media. It highlights the continuing decline of Facebook uses by younger demographics with 12-15-year-olds with a Facebook profile decreasing from 40% in 2017 to 31% in 2018. Instagram increased from 14% to 23% in the same period with Snapchat fixed at 31%.